The Power of Sharing: A Night in County Tipperary
"Quiet now, Samantha has something she's going to share with us".
Every eye in the room turns toward me: the outsider lurking in the entrance.
Standing in this doorway, looking out over a tightly packed room of musicians and appreciators, I realise how much I've been taught to be overly modest and not share my talents unless in the exact right time and place.
Most pubs I frequent here are home to the iconic Irish music scene – a small band of musicians playing in the corner, predominantly drowned out by the chatter, but being appreciated by those listening in.
I've made a close friend – Caoimhe (Queevah); she's one of these musicians. Being Australian, I'm expecting the classic modest downplaying of talents, so her response to the "What do you play?" question is unexpected and refreshing:
"Mostly guitar and fiddle, and I'll sing a few tunes and play tin whistle if the whistle player can't make it, and if they've got a spare bodhrán, I'll take my turn on that."
No unnecessary modesty or beating round the bush – simply an awareness of the skill she has. It's an attitude of unashamedly sharing that delights me.
County Tipperary is the quintessential image of Irish countryside – rolling green hills, quaint houses dotted along the winding roads and friendly locals who greet you with an accent almost too thick to understand. I'd been told about this night by Caoimhe the first day we met, and now, here I am: engrossed by the most marvelous melodies floating through the room.
The place is called Jim O' the Mills; it's Jim's home – an old miller's house situated somewhere along a long country road lined with hedges and lacking anything resembling a streetlight. Jim opens up his house once a week; the crowd is predominantly local regulars, all greeting each other with warm hugs and smiles upon arrival.
Jim's wife had been buttering pieces of home-cooked brown bread, which we had stopped to help with whilst having good catch-up yarn. This was currently being passed around the room – with a small slice of black pudding atop each piece.
There's an easy 50 people packed into Jim's converted living room – the rickety stools face the front, where a row of musicians sit before the open hearth. They morph from one folk tune to another, following suit from whoever knows the tune best.
The music rises and falls, the occasional break between tunes punctuated by chatter amongst friends. The lilting fiddles have a husky tone – they accompany the rhythmic guitars; wooden flutes blend perfectly with the accordions squeezing back and forth, the sounds perfectly melding.
The joyous physicality of the musicians' movements makes it impossible to look away.
Almost everyone is holding a Guinness, supplied by the tap Jim's installed in his makeshift living room bar. Conversation between the music is accented by heavy glasses being placed on bookshelves or the mantelpiece doubling as bar tables.
As soon as I walk in, I'm warmly greeted, as if an old familiar face myself. Jim's daughter Cáit pipes up after Caoimhe introduces me, asking if I play any instruments.
I tell her I can play a couple, but not to a particularly high level. It's true to a point. I'm no master on any instrument, so why would I list them as talents worth mentioning?
"Well, can you sing then?" she presses on.
I'm far too embarrassed in front of all of these extraordinary players to compare my talents to theirs. I shrug the question off: "Nah, sort of, but not really." A classic modest answer: one that I'd expect from anyone else in my position. This wasn't my concert – or my friends – I wasn't going to make it about myself.
This earns me a baffled look from Caoimhe – she's heard me sing, we'd been practicing together for a music exam yesterday.
"Yes, you can," she calls me out, right there, in front of everyone.
"Will you sing something for us then?" Cáit seems bent on including me.
I'm flattered, but terrified. I'm comfortable performing in front of hundreds, but an intimate room of 50? Having to take myself seriously and being unprepared for it? No thanks.
But I don't want to be rude, and she seems nice – I must look so panicked.
"I guess…"
I concede to my fate, and just like that, Cáit has the attention of the room. I have no choice but to start singing, unaccompanied, to a room full of expectant people.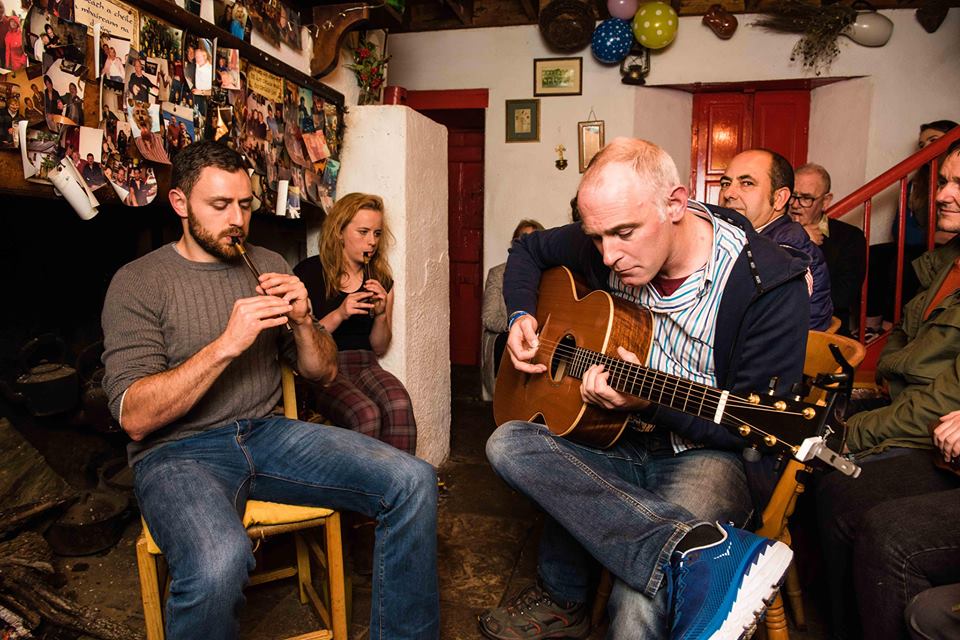 I begin. The room is dead silent except for the crackle of the fire and my nervous voice. I'm singing the only Irish folk song that came to mind; I fumble over the words, desperately trying to remember what line comes next.
Black is the colour of my true love's hair.
Her lips are like some roses fair
She had the sweetest smile and the gentlest hands
And I love the ground whereon she stands.
I'm nervous, but I can feel the encouragement radiating off everyone present. An old man in the second row quietly joins his voice with mine, seamlessly fitting the lyrics in – picking me up where I stumble. I reach the chorus; a guitar joins in, and someone starts a harmony line on their fiddle. At least a quarter of the room is singing along now, complicated harmonies easily weaving around my voice.
But it's my song, so no one is louder than me. I come back to the verse; most of the strong voices drop out to listen. It continues like this until, by the final chorus, everyone in the room is playing their instrument or singing along. The song draws to a close, and there's a polite applause, but a genuine look of appreciation on the faces around me.
Throughout the night this happens many times, in a lull in the music, someone declares they have something to share. At one point, Caoimhe's mum –renowned in the community for her poetry – recites a new work. Later, we're serenaded by a young man sitting with his legs through the balustrades of the staircase. He performs two pieces for us, accompanying himself on guitar; they're haunting and incredibly stunning. The songs tell stories of Irish history and turmoil and his voice has a sadness to it that is well beyond his years.
The evening winds down. I find myself one of the last left – it's early morning and I'm finally sitting next to Jim. He tells me that he makes fine handcrafted fiddles and bodhráns. Before I know it, he's teaching me how to play this unique Celtic drum, patiently laughing with me as I make terrible attempts to replicate his own perfect sound.
As people gradually take their leave, some of them tell me how much they enjoyed hearing my voice; they thank me for bringing something to the evening. It's not an ego boost: it leaves me feeling deeply honoured – a valued part of the wonder I had experienced.
I return the next week, prepared with a poem and another piece, leaving my self-deprecating modesty at the door – knowing now that this is a community, a culture, that revels and delights in the gift of sharing.
Cover by Caitlin O'Brien; inset via Jim's Facebook
Facebook Comments